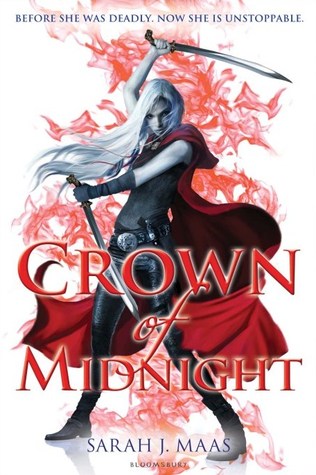 Title: Crown of Midnight
Author: Sarah J. Maas
Book #: 2 in the "Throne of Glass" series
Genres: Young Adult, Fantasy
Publication: August 2013, by Bloomsburry Childrens
Pages: 418
Author's Website and Twitter
Source: purchased
Format: paperback
Rating: 
Crowned by Evil.
Bound by Duty.
Divided by Love.
Celaena Sardothien, royal assassin, is the King of Adarlan's deadliest weapon. She must win her freedom through his enemies' blood – but she cannot bear to kill for the crown. And every death Celaena fakes, every lie she tells, put those she loves at risk.
Torn between her two protectors – a captain and a prince – and battling a dark force far greater than the king, Celaena must decide what she will fight for: her liberty, her heart or the fate of a kingdom…
Synopsis from Goodreads.com
"The rest of the world quieted into nothing. In that moment, after ten long years, Celaena looked at Chaol and realised she was home."

Review
This series is turning into one of my favorite series of all time!
I love the world it takes place in. I don't read a lot of high fantasy because I always find the world too complicated and there are usually too many characters to keep up with, but this world is just right for me. Not too complicated and not too plain and there's also a normal amount of characters so that I don't have to flip back to remind myself who is who.
One disadvantage is that it takes a lot of time for something really important to happen. There are plenty of things happenning, but every time I was thinking "ok, this is it. We'll get a major clue about what's going on" it turned out to just put more questions into the story. I had no idea how it was going to end though, and I loved that about it!
I can honestly not decide if I'm team Dorian or Chaol. I'm leaning more towards Chaol, but it's so hard to choose!
Anyway, I recommend this series for anyone who is hesitant about reading high fantasy and I'll definitely continue with the next book soon!
Opening Line
"The shutters swinging in the storm winds were the only sign of her entry."
Recommend it for…
Hesitant high fantasy readers
Fans of strong female characters