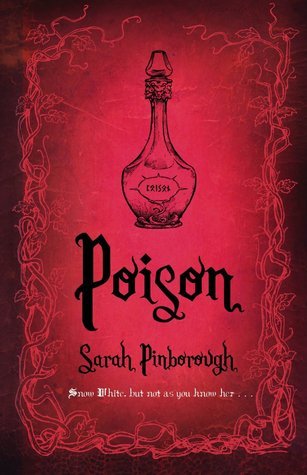 Title: Poison
Author: Sarah Pinborough
Book #: 1 in the "Tales from the Kingdoms" trilogy
Genres: new adult, fantasy, fairy tale retellings
Publication: April 2013, by Gollancz
Pages: 202
Author's Website and Twitter
Source: purchased
Format: hardcover
Rating: 
A beautiful, sexy, contemporary retelling of the classic Snow White fairy tale, illustrated by Les Edwards.
Poison is a beautifully illustrated retelling of the Snow White story which takes all the elements of the classic fairy tale that we love (the handsome prince, the jealous queen, the beautiful girl and, of course, the poisoning) and puts a modern spin on the characters, their motives and their desires. It's fun, contemporary, sexy, and perfect for fans of Once Upon a Time,Grimm, Snow White and the Huntsman and more.
Synopsis from Goodreads.com
Review
This is the first fairy tale retelling book I've read and I'm excited to dive more into this genre! I picked up this book mainly because it's the cutest, most beautiful book I've ever seen. It's a little hardcover (only 202 pages) without a dust jacket and it has some amazing illustrations in it. I just couldn't resist. But it turned that I really liked the story too!
It's the basic Snow White story. I've read a few reviews saying that the story is very different than the original one, but I have to say I disagree. The first 2/3 of the book were very similar to the Snow White story and only in the end there was a turn of events. It also takes place in that same time period, which I also consider as "staying close to the original".
So, naturally we have the evil queen. What I liked about her was that she was described as being stunningly beautiful. I keep getting the disney version in my head, but the truth is that in the original story the queen is supposed to be beautiful. Apart from that, I liked that she wasn't just evil, just like that. There was a back story and a reason why she had become like that. I also liked reading from her perspective the most. The points of view were changing throughout the book, but I was always most excited to read from the queen's perspective. I generally find her the most interesting character. I don't know, maybe I have a thing for villains! Lol!
I can't say I learned very much about Snow White's character. She was more "quiet", I think and I felt like the focus was more on the queen and maybe even the prince that it was on Snow. I was surprised by some of her decisions, though, because they were quite different than what I expected, but it wasn't a negative surprise. Or a positive. It was just different.
Another thing I liked about the book was that the prince had a bigger role than usual. In the Snow White fairy tales I've read the prince usually only appears at the end of the story, kissing Snow White and living happily ever after. In this version of the story he appears much sooner and we get to know him a bit better. Can't say I liked what I saw. The prince was definitely not "The Knight in shiny armor", but I didn't mind this version of the story. I quite enjoyed the change.
Another important and original thing about this book is the sexiness of it. It's in the first sentence of the synopsis, so I expected it to have some hot scenes and I really liked that. To me almost every fairy tale has some hidden sexual messages and I really enjoyed bringing those to the surface. My inner Freud was nodding with approval while I was reading some of those scenes. But for that reason I might not recommend this book for people who are under 15 years old. Just to be safe.
So in general I rather enjoyed this book! I decided to give it 3.5 stars because it isn't one of the books that are going to stick in my memory for a long time. I wasn't really mind-blown. But I thoroughly enjoyed it and I will pick up the other two books for sure! They're about Cinderella and Sleeping Beauty and I've heard that they're actually even better.
Opening Line
"She's too old for that nickname," the queen said.
Mini Review
As the synopsis says " a beautiful, sexy retelling of Snow White"!
I thoroughly enjoyed this book and especially the queen's character.
In my opinion it isn't very far from the original version, apart form some sexy scenes
Recommend it for…
Snow white fans

fans of retellings